Happy Days are Here Again!!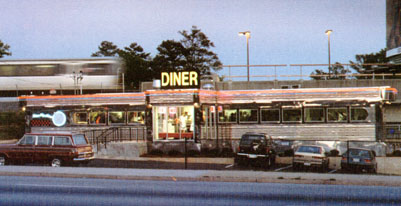 At Last, a Diner That Everyone Can Afford!!
Stop being one of the millions who spend money at diners every day...and start being the one who collects thousands every day by owning the diner! This is not a franchise...for a one time investment you get a complete turn-key diner that will begin generating profits quickly.
If fast return on investment, no royalties, and repeat customers are important to you, please contact us to learn more about Happy Days Diners.
Own Your Own Diner...Keep Your Own Profits!
Diner Concepts, Inc. is re-introducing the Happy Days Diners that were built from the 1950ís-1980ís. They were our most popular diners for over 30 years!
We have over 43 years experience in designing beautiful Stainless Steel Diners.
All models include furniture, fixtures and equipment.
Our low price for our Happy Days Diner is the best deal available on a full-service 60-seat diner in the USA.
Other models are so affordably priced that itís easy to own your own slice of American life with a Happy Days Diner. (See Price List)
No Franchise or Marketing Fees, and No Franchise Royalties!
Quality factory-built Modular construction meets all state building codes.
Normal delivery is 90-120 days from plan approval date.
Hundreds of interior color choice combinations.
Ask about our Paid Referral Program.
Diner Concepts, Inc.
Monarch Plaza
3414 Peachtree Road, Suite 105
Atlanta, GA 30326-1164
Phone: 404-237-5221
Fax: 404-237-4481