Happy Days Lunch Wagon
The Diner you take with you!
Unbelievably Priced at
$149,500

Stainless Steel Exterior
Stainless Steel Interior
Fully-Equipped
Totally Mobile
Sign Package
Awnings
Financing Available

20' Long x 8.5' Wide (170 sq ft)

*Specifications are subject to change without notice.
EQUIPMENT SPECIFICATIONS - (Scroll down for floorplans)
TRAILER 20' SERIES VI
Mounted on 14.400# tamdem Torflex axle assembly with 235/85R16-G114RST radial tires. Permanent hitch. 2 5/16" coupler and ball. Hitch jack. Safety chain. All ICC road lights. 12V connector complet for trailer and for towing vehicle. Break-a-way kit complete and installed. four wheel electric brakes with electronic brake control. roof sealed and insulated. basic 100 amp 220 v electrical wiring package. overhead storage shelves on two sides and one end of trailer. outside fold down stainless steel serving counters. undercoated with rust prohibitive black primer and painted all white inside and out using DuPont Centari paint.
CORNER JACKS 7000# : Set of four
FLOOR, VINYL - SQ. FT
QUILTED STAINLESS BACKWALL
ELECTRICAL UPGRADE 110 AMP 220V Wiring, 24 Circuit box with six extra circuits
AIR CONDITIONER 3.5 TON UNIT
HOOD AND EXHAUST FAN 80" X 32"
Stainless Steel Hood with Filters and Upblast Fan
REFRIGERATOR TRUE 23 CU FT
PLUMBING PACKAGE
173-4 Single Sink, Triple Sink with 14" x 9" x 10" Bowl, 6 Gallon Electric Water Heater, 36 Gallon Stainless Steel Waste Water Tank, Two Stage Water Filter, All Faucets, Fittings and Strainers
RACK FOR BAG-IN-BOX Containers
COUNTER FORMED STAINLESS STEEL
POST MIX DRINK SYSTEM SITCO #1522
Drop in Post Mix - Bag in Box - 5 Flavor
FLAVOR RAIL NELSO BDF-4 All Stainless with Pump Ladle and Jar Kit
ICE MAKER HOSHIZAKI KM-500 Ice Maker with B-300 SF Ice Bin
PREP TOP REFRIGERATOR
HOT DOG STEAMER STAR 70SSA
CONVEYER TOASTER QCS1-350 018 GRILL STAR 836TS LP Gas
HOTPLATE STAR 602HD- LP Gas
STAINLESS STEEL FRAME For Grill and Hotplate
FRYER PITCO SG14 LP Gas - Stainless
FREEZER Silver King 6 cu. Ft. Freezer
GAS BOTTLES/RACK/REGO/40# With Gas Line to Equipment With Shut Off Valve
AWNING FOLD OVER TYPE
AWNING BASKET STYLE CANVAS A&A
GLASS PER OPENING FIXED OR SLIDING
TOPSIGN Aluminum Topsign with Arched Center Station
ARTWORK Fort Topsign as shown on rendering
CANVAS AROUND BOTTOM
MIRRORED STAINLESS Trim around lower body
SEAL AND INSULATE All Walls
AUTOMATIC FIRE EXTINGUISHER SYSTEM
Floor Plan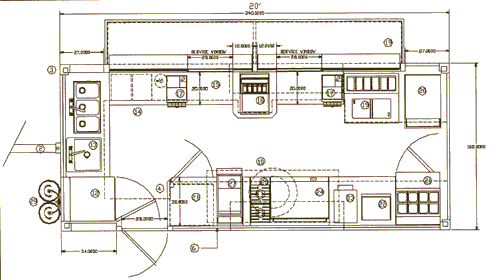 Elevation Plan

*Pricing and Specifications are subject to change without notice.